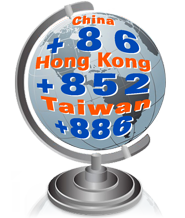 Own a China virtual phone number and receive calls anywhere, with OneSuite Global Forwarding
Be easily reached like a next door neighbor!
Expand global presence with a China, Hong Kong, or Taiwan phone number
Let your overseas business associates, family and friends easily and cheaply make a local* call to reach you.
You can answer calls anywhere, on mobile phone, home or office landlines, or VoIP.
Receive calls anywhere starting from 1.8¢/min
•
Pair up to double the benefits
Pair up OneSuite Forwarding with SuiteAdvantage VoIP and enjoy unlimited voicemail to email and other features.

Sign up at OneSuite.com with $10 in account credit, then, pay as you go.

Log in to your account and subscribe to OneSuite Forwarding, then choose your China phone number, Hong Kong phone number, or Taiwan phone number.

In your account, forward your calls to any number worldwide, from anywhere, at anytime!

Subscription fee and usage charge will be deducted from your account balance. Recharge as necessary.
Want more low cost services?
  How your China, Hong Kong, Taiwan virtual phone number works:

China National Number Business Benefits
Extend business hours: Pick up calls on the go, or have your China, Hong Kong, Taiwan number forward calls to teams located across time zones.
Establish presence: Establish your local business presence, without the expense of setting up an overseas office, so overseas contacts can call you at local rates!
Global mobility: Make forwarding changes instantly online, so you have global access to receive calls to your China, Hong Kong, Taiwan number.
SME budget-friendly: Cost-effective solution tailored for small-to-medium enterprises.
Greater China Phone Number Features
Get an additional number: Expanding business locations? Up to 10 China, Hong Kong, Taiwan numbers available for subscription per account.
Change forwarding destination online instantly: so you can pick up calls anywhere on any type of phone.
Get free voicemail: Pair up with SuiteAdvantage VoIP, so you can get free voicemail to email, and conveniently check your messages in 4 different ways.
Other forwarding numbers available: OneSuite also offer US/Canada local and toll-free forwarding numbers to expand your market reach in North America.
Why Choose OneSuite
Multiple ways to make cheap international calls from outside US/Canada: OneSuite Hybrid Long Distance means you can make calls with or without internet from worldwide. Use OneSuite like a international phone card, dial around service, long distance service, or VoIP softphone to call from Australia, France, Germany, Hong Kong, Mexico, Taiwan, UK and more countries.
Hassel-free dialing for multiple devices: whether you use a touchtone phone, cell phone, or a smartphone, OneSuite has a feature to enhance your dialing experience to one-touch, 4-digit dialing, or direct dialing.






What you should know about a China local call:
*Coverage for OneSuite Forwarding China, Hong Kong and Taiwan numbers excludes XinJiang, Tibet, and Inner Mogolia, and is not compatible with PHS handsets; some corporate or hotel PBX systems may also place restrictions on phone number digits. Calls from numbers with the same country and area code as the aforementioned numbers will be charged at local rates.
For calls to OneSuite's China numbers beginning with 950 and Hong Kong numbers beginning with 1502, if the caller is using a local China number, regardless of area code, the call will be deemed as local.
Please note that telecom carrier billing policies may vary by region. It is best advised that the caller verify the call charges to your international number with their local or wireless carrier.
How to enjoy your free internet fax service when you try OneSuite:
**Sign up for a OneSuite account, log in to your account, click on "OS Fax," your free subscription code will already be filled in so you can enjoy a FREE 1-month trial of OneSuite Fax Plus. The offer is limited to a one-time free trial, one fax number subscription per OneSuite account, or per OneSuite Business sub-account. The outbound fax usage will be deducted from your OneSuite account balance in accordance with the fax rates listed in our Rates Center.