OneSuite

App

Make quality international calls on your iPhone, iPad, Android smartphone or tablets from worldwide with low rates.
Three Ways to Make Calls: NO Internet, WEAK Internet, GOOD Internet, just 1-Touch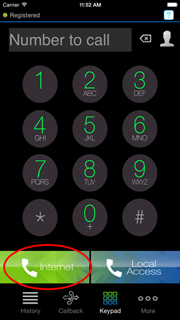 VoIP Dialer
When to Use
When you have strong Wi-Fi, 3G or 4G internet connection
Benefits
Dial directly from your phone's native phonebook
No access number, No PIN dialing
Make calls worldwide with internet connection
Call History Display
From: Broadband
To: Your destination number
Network Requirement
Wi-Fi or 2G/3G/4G data for the entire call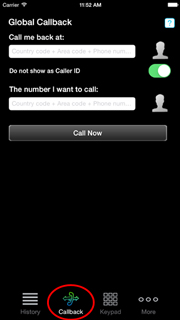 Global Callback
When to Use
When your Wi-Fi, 3G or 4G signal is weak, or on the go
Benefits
Select phone numbers directly from your phone's native phonebook
Internet is not required for the actual call
No access number, No PIN dialing
Connect calls not only for yourself, but also for your family or friends
Call History Display
From: System Callback
To: Your phone number
From: System Callback
To: Your destination number
Network Requirement
Wi-Fi or 2G/3G/4G data to request callback
Wireless or landline to receive call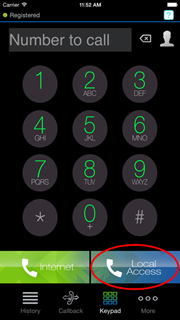 Local Access Dialer
When to Use
When you are in the U.S. 48 States, with NO internet access on your smartphone or iPhone.
Benefits
Select phone numbers directly from your phone's native phonebook
Internet is not required for the actual call
No access number, No PIN dialing
Call History Display
From: Your phone number
To: Your destination number
Network Requirement
Wireless coverage in U.S. 48 States. Call duration will also be reflected as your airtime usage, calling the local access number.
Start By Downloading and Installing OneSuite App on Your Smartphone Now!
Device: iPhone / iPad / Android phones or tablets
Step by Step Instructions for New Users
See detail instructions: iPhone | Android

Get helpful tips on how to get the most of your OneSuite App by tapping on the "?" icon at the right top corner of the app.